Met up with Gerkiel today for lunch at Ootoya. My current favourite now. I love their hijiki seaweed rice! After lunch is manicure time and Gerkiel painted her nails in pastel pink. Its super nice! Now both our nails are ready for the spring look!
Noon was afternoon tea session with Fancl. They made us felt super pampered! It's at Royal Scotts. Place is nice, ballroom nice and food is nice! Somemore I saw my long idolize GM from Fancl! He got the charismatic look.....we cant help oogling over him. Our entertainment of the day. Haha.
After that was shopping time at Far East Plaza. The clothes damn cheap. Gerkiel wanted to find her flowery dress for Spring but failed. And I got myself 2 blue flowery dress instead. Always end up that I'm the one who bought alot. So much walking and eating today. Towards the evening Gerkiel went off to meet her friends and I made my way home and dropped by Liang Court.
There's some live band performance today. Quite cool~ but its ending when I reached there. As usual, I visited Tampopo Deli for my favourite Mentaiko onigiri before it's sold out! Yes! The last one....yey! And I also got the favourite chips from Meidiya! The things I love....always get sold out.
I was thinking whether to go home but its still early. So, I went to the Vietnam cafe and slack there for the rest of the evening. Reading my magazines, drinking coffee eating onigiri, chatting with favourite person on the phone. It such a cute little evening~
Recently, Sanrio came out with this cute little new character call Oyasumi Bakura. It's super stupid looking but so adorable!
Its somehow a goodnight pillow. And it likes to sleep.... So cute!!! This is what I found online about this little thing:
In Japanese, "makura" means "pillow" and "baku" means "tapir" and/or a Japanese dream spirit. These two words are combined for a pun. Baku (獏 or 貘) are Japanese supernatural beings that devour dreams and nightmares. They have a long history in Japanese folklore and art, and more recently have appeared in Japanese anime and manga.
This is Bakura...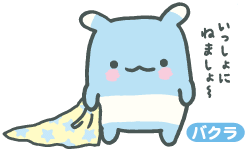 And this is Suusuu! And it means soft whistling breaths!

So cuteeee! I repeated myself for the nth time.... I simply love stupid looking things.....